"The Son reflects God's bright glory
and is STAMPED with God's own character."
Hebrews 1:30
Want to know God? You need look no further than Jesus. "The Son is exactly like God."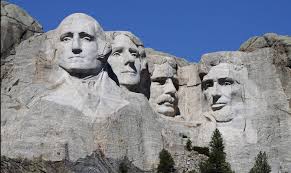 E. Stanley Jones said: "Jesus makes known the character of God." (See Part 1) The greek word (the Gospel's original language) for "character" means an engraving in stone. Remember Mt Rushmore in the Black Hills of South Dakota? It took engravers 14 years to sculpt the granite into the images of George Washington, Thomas Jefferson, Theodore Roosevelt and Abraham Lincoln. Hebrews 1:3 exactly captures the greek idea. "The Son reflects God's bright glory and is STAMPED with God's own character." Looking at the stamped image of God's character,  what does Jesus reveal?
Undoubtedly, you have seen an old fashioned wagon wheel. All of the spokes are rooted in and radiate from the central hub. Jesus is the central hub of knowing God. "I myself am the road," replied Jesus …. No one approaches the Father except through me." (John 14:6) You may have been taught and thought many things about God. However, any teaching / doctrine / thought that is not grounded in Jesus is like a hub-less wheel … grossly misaligned, distorted and hence, erroneous.
The central truth that Jesus, the hub, reveals about God is this: He is FATHER! "Anyone who has seen me has seen the Father!" Hence, when teaching the disciples to pray, Jesus began: "Our Father.…" Furthermore, the creed that unites all Christian churches begins: "I believe in God the Father..."
For this reason I have entitled this series The Father's Heart!