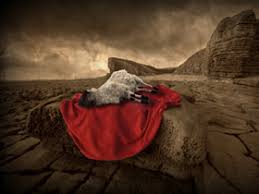 "Worthy is the Lamb that was slaughtered to receive power and wealth
and wisdom and might and honor and glory and blessing!"
Revelation 5:11-13
It's the season of Lent, a period during which followers of Jesus ask … "WHY?" C. S. Lewis  wrote, "He died not for men, but for each man. If each man had been the only man made, He would have done no less." "The only man (human) made" is YOU! So, more accurately the question is … "WHY … FOR ME?" This is the heart of Lenten reflection.
It began in the Garden of Eden. As the pinnacle of HIs Master Plan, God designed humankind to reflect Himself. "God created human beings godlike, reflecting God's nature." (Genesis 1:27) What is God's nature? "Whoever does not love does not know God, because God is love." (1 John 4:8) 
There are Natural Laws (Gravity). They describe the way things work. Jesus said the Law of our Being is Love. "One of the religious leaders tested Jesus. "Master, what are we to consider the Law's greatest commandment?" Jesus answered him, "'You shall love the Lord your God with all your heart, with all your soul, and with all your mind'. This is the first and great commandment. And there is a second like it: 'You shall love your neighbour as you love yourself'."