One day some parents brought their little children to Jesus
so he could touch and bless them.
But when the disciples saw this, they scolded the parents for bothering him.
Then Jesus called for the children and said to the disciples, "Let the children come to me.
Don't stop them!
For the Kingdom of God belongs to those who are like these children
Luke 18:15-16
You're Going to be Okay: Healing from Childhood Trauma
The Testimony of Katy Pasquariello at TEDxYouth@AnnArbor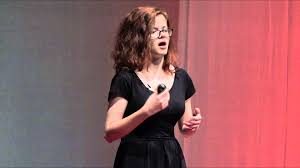 ---
If you are unaware of the extent of the problem please check the latest Statistics on Child Abuse in the United States before you listen to the video.

4 million child maltreatment referral reports received.

Child abuse reports involved 7.2 million children.

3.4 million children received prevention & post-response services.

207,000 children received foster care services.

75.3% of victims are neglected.

17.2% of victims are physically abused.

8.4% of victims are sexually abused.

6.9% of victims are psychologically maltreated.

Highest rate of child abuse in children under one (24.2% per 1,000).

Over one-quarter (27.%) of victims are younger than 3 years.

Annual estimate: 1,670 to 1740 children died from abuse and neglect.

Almost five children die every day from child abuse.

80% of child fatalities involve at least one parent.

74.8% of child fatalities are under the age of 3.

72.9% of the child abuse victims die from neglect.

43.9% of the child abuse victims die from physical abuse.

49.4% of children who die from child abuse are under one year.

Almost 60,000 children are sexually abused.

More than

90% of juvenile sexual abuse victims know their perpetrator
Information Courtesy of U.S. Department of Health & Human Services, Administration for Children and Families, Administration on Children Youth and Families, Children's Bureau, Childhelp USA, Centers for Disease Control.
---