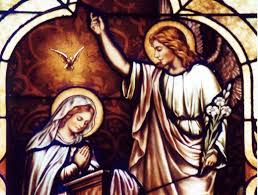 In the sixth month the angel Gabriel was sent from God to a city of Galilee named Nazareth, to a virgin betrothed to a man whose name was Joseph. The virgin's name was Mary. The angel came to her and said, "Greetings, you who are highly favored. The Lord is with you."When she saw him, she was troubled by his words, and considered in her mind what kind of greeting this might be. But the angel said to her, "Do not be afraid, Mary, for you have found favor with God. Listen, you will conceive in your womb and bear a Son and shall call His name JESUS. Then Mary said to the angel, "How can this be, since I do not know a man?"The angel answered her, "The Holy Spirit will come upon you, and the power of the Highest will overshadow you. Therefore the Holy One who will be born will be called the Son of God. Listen, your cousin Elizabeth has also conceived a son in her old age. And this is the sixth month with her who was declared barren. For with God nothing will be impossible."Mary said, "I am the servant of the Lord.
May it be unto me according to your word."
Luke 1:25-38
It all began with Mary, a teenager from Nazareth. The angel Gabriel appeared to her with this message: "You will conceive in your womb and bear a Son and shall call His name JESUS." 
Without understanding the Jewish culture of the day we're clueless as regards the meaning of this event!
Joseph had his eye on Mary and so he asked her out for a date. NOT! He would first speak to his father, expressing his desire for Mary. Agreeing with his son's wish, the father would approach Mary's father, conveying Joseph's intention. After negotiating the dowry, the two would reach a legal agreement, which would then be made public. Mary and Joseph were "BETROTHED"! This is similar to the Pronouncement of Marriage by the officiant in a marriage ceremony today. 
However, NOTE this big difference! "When Mary had been betrothed to Joseph, before they came together..." After the betrothal there would be a time of waiting during which the bride and groom would live separately with no sexual involvement. It was also a time for the groom to accumulate money for his new family. This is the period in which Gabriel visited Mary and announced her pregnancy.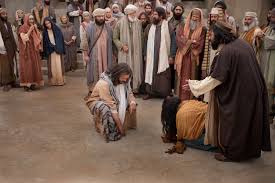 As famous radio broadcaster, Paul Harvey, used to say: Here's "The Rest of the Story!"  Then early the next morning he went to the temple. The people came to him, and he sat down[a] and started teaching them. The Pharisees and the teachers of the Law of Moses brought in a woman who had been caught in bed with a man who wasn't her husband. They made her stand in the middle of the crowd.Then they said, "Teacher, this woman was caught sleeping with a man who isn't her husband. The Law of Moses teaches that a woman like this should be stoned to death! What do you say?" They asked Jesus this question, because they wanted to test him and bring some charge against him. But Jesus simply bent over and started writing on the ground with his finger. They kept on asking Jesus about the woman. Finally, he stood up and said, "If any of you have never sinned, then go ahead and throw the first stone at her!" Once again he bent over and began writing on the ground. The people left one by one, beginning with the oldest. Finally, Jesus and the woman were there alone. Jesus stood up and asked her, "Where is everyone? Isn't there anyone left to accuse you?" "No sir," the woman answered. Then Jesus told her, "I am not going to accuse you either. You may go now, but don't sin anymore."
As Mary began "to show", the Jewish Law would be activated. A sentence of death by stoning was mandated. Like the woman above, Mary should be stoned.
When is the last time, if ever,
you've heard this part of MARY'S CHRISTMAS?